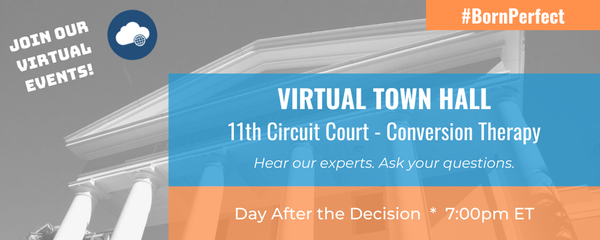 Earlier this year, the 11th Circuit Court which oversees cases in Florida, Georgia and Alabama, heard a challenge to local conversion therapy bans in two Florida cities. The two plaintiffs argued that they should be allowed to continue this discredited practice that has continually been shown to harm LGBTQ+ youth.  
We know this is a difficult time for everyone - and it's almost unbelievable a court would even be considering this issue at all. That's why we're here to keep you informed by inviting you to join us for our Virtual Town Hall the evening after the decision.  We'll feature experts providing analysis of the opinion, how it will affect our lives and current legislation, and what still needs to be done. Even if you can't attend, RSVP to receive a recording of the event.
RSVP here to the Virtual Town Hall
The Court must affirm the ability of government to protect children from harmful and discredited conversion therapy - and allow these current bans to stay. We will also need to continue our work until conversion therapy is banned not just in our state, but all 50 states. So join us for this important Virtual Town Hall!
** The Court does not give advance notice of when it issues opinions so we won't know the exact date for the Virtual Town Hall until the day the opinion is announced.