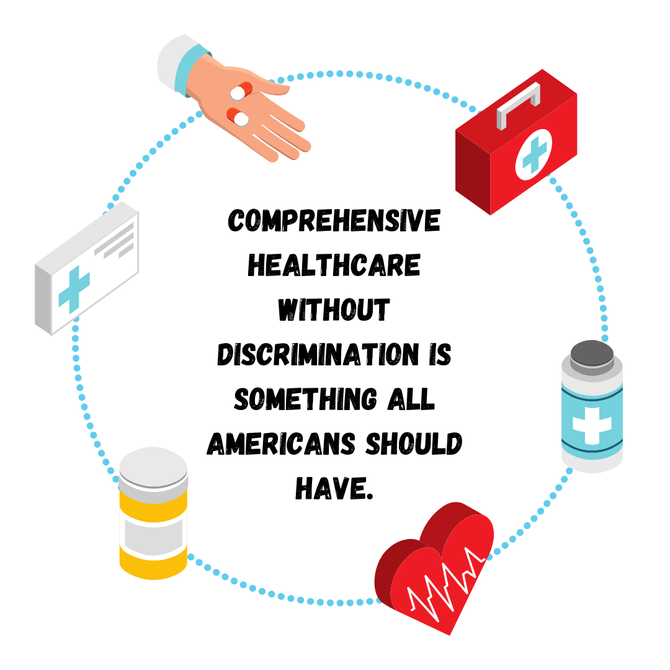 THE COMMENT SUBMISSION PERIOD IS OVER AS OF 10-4-22. HOWEVER, IF YOU HAVE EXPERIENCED DISCRIMINATION IN A HEALTHCARE SETTING AND WISH TO SHARE YOUR STORY, PLEASE USE THIS FORM TO DO SO.
The Department of Health and Human Services (HHS) has issued a proposed rule that will make discrimination in health care and health insurance settings illegal, including discrimination based on sexual orientation and gender identity.
Why did they need to issue such a rule?  Because in addition to putting millions of lives at risk, this type of discrimination directly undermines the mission of the HHS: to ensure the health and well-being of all Americans.  Yet many opponents of LGBTQ+ equality continue to encourage discrimination against our community in a health care setting, and they are turning up in large numbers to take a stand against this rule.
We're joining LGBTQ+ advocates across the country in supporting the proposed ruling by HHS. We need YOU to join us! Submit a comment in favor of the proposed rule or share your story of healthcare discrimination.  Do it today, because we only have 60 days to voice our opinion.
Below are examples of how people could be affected should this rule not be in place.  You can use these as talking points when submitting your comment. The more personal, the better.
Without this rule, LGBTQ+ older adults could suffer:
An LGBTQ+ senior could be refused services meant to assist older adults still living in their homes.
Without this rule, LGBTQ+ youth could suffer:
Children's healthcare facilities could refuse to serve children with married same-sex parents or refuse to provide services to transgender youth.  
Programs supporting youth experiencing mental illness could turn away someone who identifies as LGBTQ+.
Without this rule, the transgender community could suffer:   
A transgender person living with HIV could be denied services critical to managing their health.     

Substance use prevention and treatment programs could refuse services to someone who identifies as transgender.