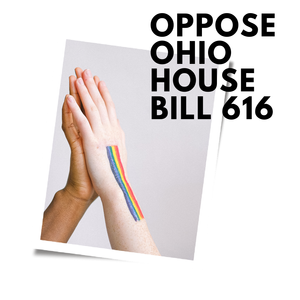 Ohio House Bill 616 (HB 616) is a curriculum ban bill combined with a more dangerous version of Florida's Don't Say Gay bill. HB 616 is more broad and vague, expanding censorship of LGBTQ+ issues from Kindergarten through 12th grade.  It would effectively erase LGBTQ+ people from the classroom and is exceptionally cruel to community members, their families, and anyone who loves them.
LGBTQ+ youth are already more marginalized and vulnerable in the classroom. And this legislation will also deeply harm the more than 30% of LGBTQ+ adults who are raising kids in Ohio, by ending discussion of non-traditional families in the classroom and banning students from discussing their own lived experiences.
We know that more than 79% of Ohioans believe in nondiscrimination protections. This legislation is out of step with Ohioans, takes our state down the wrong path, and must be defeated.