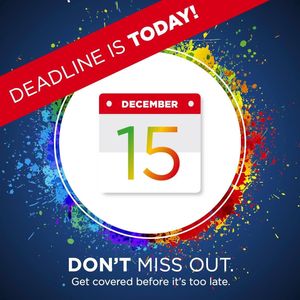 TODAY - December 15th - is your last chance to find health insurance that fits your needs and your budget for 2021.  Don't delay! visit HealthCare.gov now. 
A few reminders: 
Plans and prices change every year. If you still need to renew your coverage, visit HealthCare.gov to check out your options. You may find a better plan for a better price. 
Free LGBTQ+-friendly help is still available.  Out2Enroll works with local assisters across the country who committed to creating an environment that is welcoming, inclusive, and affirming.  Click here to get started. 
Looking for transition-related care? We've got you covered with new Trans Health Insurance Guides. 
LGBTQ+ people are protected from discrimination in health care.  You have the right to the care you need and the respect you deserve. 
TODAY IS YOUR LAST CHANCE TO GET COVERED.  VISIT HEALTHCARE.GOV TO GET STARTED. 
*Some states with individual marketplaces may have extended their open enrollment periods, but the dates vary—please double-check the enrollment deadline for your state's marketplace and remember that to have coverage that begins on Jan 1st, you must enroll by Dec 15th.