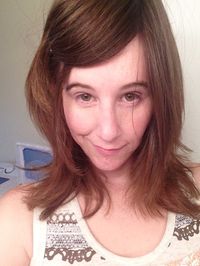 The proposed changes to Section 1557 of the Affordable Care Act will negatively affect the communities the law is meant to protect, including the LGBTQ community. I oppose this proposed rule because I was a recipient of gender-affirming surgery, thanks to the ACA and specifically Section 1557. It was a long, hard fight to be who I knew I was. To remove these protections is arbitrary, mean-spirited, and grotesque.  LGBTQ citizens are citizens like everyone else. We deserve to know that in our time of need we won't be denied life-saving care.  -Cosette Konrad, Holiday FL
---
I oppose the recent proposed regulation.  LGBTQ patients – specifically transgender patients - would face even higher odds of being denied necessary and life-saving medical care.
First and foremost, I am a caring, compassionate person who wants to do what I can to help those in need and make the world a little better for future generations.  I am an educator, and I treat every client with respect regardless of their background, religious identity, or political views.  I am also transgender. 
Prior to my gender transition, my mental and physical health were at an all-time low. Every day became a battle with myself, and I almost did not survive.  I was able to medically transition with support from a team of doctors and therapists.  I am fortunate to have been able to access this care. If there were regulations in place allowing discrimination of individuals like me, I may not be here today. 
I strongly oppose the proposed regulation. Promoting discrimination is wrong, unnecessary, and puts millions of lives like mine at risk.  -Ary, Long Beach CA
---
As an openly gay former REPUBLICAN elected official in Chatham Borough, NJ, the U.S. cannot and should not go backward. We must move forward. Members of the LGBTQ community are human beings equally deserving of proper health care. We're not seeking special rights; just equal rights. -Len Resto, Former Republican Council President-Chatham Borough, NJ 
---
I was discriminated against in a medical setting twice.  The first time was in 2007.  I had just started transitioning and had shaved my entire body.  I was rushed by ambulance to a hospital. I had five fractured ribs and a cracked disk in my spine.  I remember feeling very self conscious, and was not surprised to overhear comments about my appearance.  My assigned male nurse told the rest of the staff to keep their remarks to themselves, and that he'd better not hear another word. He then came into my room and apologized to me. He said, "I am so sorry, that's the last thing you should have to worry about right now." 
The next time was in 2013. I knew something was very wrong and feared I may be having a heart attack but delayed going to the hospital. The emergency room nurse was clearly not comfortable taking care of me.  When I gave him my list of current medications, he immediately blamed the heart attack on the Hormone Replacement Therapy (HRT) medication and my transitioning. In the end the HRT had nothing to do with my heart problem, but those comments placed seeds of doubt in the minds of some family members. I could have lost my life because of my apprehension to seek treatment. I worried about how embarrassing the situation could become for me and my family, and I stressed about how my family would deal with it all.
Fortunately, my spouse and I found a wonderful female doctor, and under her care I am treated the same as any other patient. Still, I only get medical care if absolutely needed.  I have enough experience by now to know what to expect. I would like to be treated exactly the same as every other patient  - no better no worse!  -Olivia Ana Ackerman, Dallas TX
---
As a transgender man with a uterus, I still need gynecological care. I need testosterone prescriptions to continue to live my life. If this law were to be passed, my ability to access the services and medications I need would be in jeopardy. -Kit G., Jackson Heights NY
---
It is not right to discriminate against individuals because of their gender identity or sexual orientation.  We are human beings and deserve to be treated equally. I am personally battling discrimination with my own medical insurer.  They refuse to pay any bills that are related to my gender transition, including medications and blood work. It is an ongoing battle between me, them, and my team of medical professionals.  No one should have to go through what I am.  We deserve to receive the best medical care possible, no matter who we are or who we love.  -Heather Moore, Garland TX
---
In health care, patients must always come first. This new proposal encourages health care providers to abandon the principle of "first, do no harm" in favor of their personal beliefs. This puts transgender patients, people who need reproductive health care, and many others at risk of being denied necessary and even life-saving care. LGBTQ people already face high levels of discrimination by health care providers. 
Two of my children identify as LGBTQ. They are no less worthy of high quality health care than their sibling or parents. It's preposterous to think that one child could be free to receive care in a particular doctor's office but the other two could be denied care. Allowing this proposal undermines the dignity and health of millions of US citizens and that is not acceptable.  I oppose this proposal.  -Jennifer Robinson, Marshall MI
---
My son is gay.  To say that I am proud of him is an understatement.  He graduated first in his class from Columbia Law School. He clerked for two Federal judges, was a Bristow Fellow with the Office of Solicitor General in the Department of Justice, and is now a senior associate at a large Washington, D.C. law firm. In addition to his academic and employment achievements, he is a kind, funny, compassionate, and decent human being.
It is unconscionable that he could be denied proper health care simply because he is gay.  Our son came out to us five years ago at the age of 26.  We love him unconditionally and never once considered turning our backs on him. But like many parents, we never anticipated being in the position of becoming political advocates, asking our elected officials to support LGBTQ nondiscrimination policies and legislation.  Today we urge that the newly proposed regulations to Section 1557 of the Affordable Care Act not be adopted.  -Paige Weber, McLean VA
---
I am a gay man taking PrEP (Truvada).  I can tell you first hand that dealing with health care while identifying as LGBT is not easy. I have had health care providers shame me away from protective measures like PrEP and make me feel uncomfortable, but overall I am one of the lucky ones. 
I have great insurance and a network of LGBT friends who were able to help me find a culturally competent provider.  Still, it took me three months to get into an LGBT-friendly clinic in Washington, DC, which is one of the most LGBT friendly cities in the country. 
Not everyone has the privilege of waiting three months; not everyone has a workplace who offers good insurance, and not everyone has a network of LGBT friends to help them navigate through the process of finding proper care. These problems compound for transgender members of the community, particularly those who live in rural or conservative areas.
Our health and our LIVES are at stake.  We have every right to the same health care as the rest of the world.  -Brennan Suen, Washington D.C.
---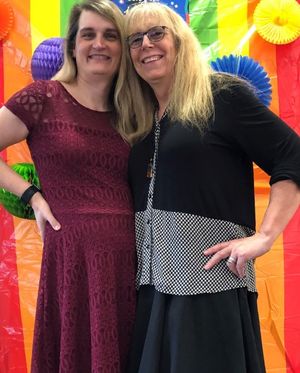 In 2013, my wife was working as an attorney in a solo practice. I had recently come out as transgender and as a result, lost my job. We needed health insurance but neither of us could get approved. We had no health problems, no history of smoking or using drugs, no pre-existing conditions......except for being transgender. 
Applications for coverage were met by letter after letter of rejection. They were very clear.  We were denied due to identifying as transgender. We went without coverage and became cash customers. We didn't go to the doctor if we got sick and used the local urgent care as our primary care physician. 
The addition and enforcement of Section 1557 provided not only peace of mind, but a healthier outcome for both of us. I now have insurance through my employer - the Resource Center in Dallas. My wife Katie has an Affordable Care Act policy that covers her needs. 
The loss of Section 1557 puts all of that in jeopardy again, and we are extremely concerned. We have experienced first hand what insurance companies can do when they are allowed to discriminate. 
The new interpretation of the nondiscrimination provision of Section 1557 of the Affordable Care Act will directly affect the very communities the law is meant to protect including women, older adults, people with disabilities, and the LGBTQ community.  These populations already face high levels of discrimination by health care providers.  We oppose the proposal to rollback protections on 1557.  -Leslie & Katie, Dallas TX
---
I have a 9 yr old transgender daughter, and I oppose discrimination against her on any level. I worry that because she is trans, she will face discrimination by medical professionals. My parents are both anesthetists and work in hospitals.  I know that their personal feelings for their patients do not enter into their ability or decision to provide the absolute best care they are able to based on what is best for that individual. All people in the medical field should treat all patients equally, regardless of ethnicity, gender, sex, color, income level, creed, religion, or belief system.  -Amanda Skinner, Alpharetta GA
---
My wife and I have three children, ages 6, 4 and 2. Since she was a toddler, our middle child has been adamant that, that despite the gender we assigned her at birth, she is a girl.  She's a happy, thriving child. But every time we bring her to a new healthcare provider, we have to explain the situation. Yes, the birth certificate and health records say "M." Yes, that child you see in front of you, in the dress, with the fingernail polish, is the same child in those health records. But please call her "her." Etc. etc. 
The protections enshrined in existing regulations, which prohibit discrimination against gender, let us bring our child to any health care provider, without concern for how we will be treated. The doctor's office feels like a sanctuary, where our kid can just be herself, compared to, say, department store bathrooms or public swimming pools, where we always half wonder what some jerk might say. By removing those protections, that sanctuary might be stripped away.  The proposed regulation should not become law.  -Benjamin Delson, Cleveland Heights OH
---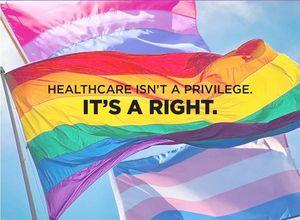 No one should be denied care because of their gender or how they present. Every human being has the right to fully participate in society, to health and wellness, regardless of their gender.  My best friend - my brother - is a trans man. He has severe allergies and health issues. He lives in continual fear that he will die as a result of being denied care. It is agony for him, and agony for me to see his struggles. No one should live with this fear. It is cruel and it violates American values. Please do not remove these protections. It could mean life or death for people like my brother.  -Kristin Houser, Atlanta GA
---
I support equality for all. As a parent, ally, and friend who has LGBTQ+ family members and friends, I want to make sure NO ONE is discriminated against because of who they are or how they choose to identify. Health care must include caring for LGBTQ+ people and also must include reproductive rights, so those needing birth control, abortion care, and tubal ligations can get the care they need. Please support equality in health care.  -Nancy Dollard, Uniontown OH
---
My daughter is transgender, therefore part of the LGBTQ community. She is no less worthy of quality health care than any other citizen. It's preposterous to think that she could be denied access to healthcare and the dignity and respect that should come with it. I strongly reject this administration's proposed rule to amend Section 1557 of the Health Care Rights Law. Removing discrimination protections speaks volumes about the Trump administration's lack of empathy for and the direct attack of the LGBTQ community. I urge you not to support these changes. -Donn Reid: proud father of an LGBTQ daughter, Cos Cob CT