(Written by Tanya Witt for Center Action Network) 
Dan and I met through mutual friends in 2014. Quiet, gentle, intelligent, with a dry sense of humor; Dan is firmly embedded within the Long Beach LGBTQ community and loved by many. As both a client of and donor to the Long Beach LGBTQ Center, Dan shared her life story with me and explained why the Center holds great significance for her. 
Born into a large Catholic Hispanic family; Dan realized early in life that she didn't fit a traditional female mold. Dan recalls watching her mother change a sibling's diaper and asking, "How do you know if it's a boy or a girl?". Dan's mother got flustered and didn't answer the question, asking Dan to leave the room. In that moment - at an extremely young age - Dan realized she was different. It was the first of many moments of discomfort. 
Years later against the advice of her siblings, Dan wrote a letter to her parents telling them she was a lesbian. Her father took the news reasonably well. Dan's mother refused to speak to her for three years although they became very close prior to her mother's passing. As many LGBTQ people do, Dan struggled after coming out to her family. In addition to adjusting to the newness of being publicly out during a time when marriage, adoption, and joining the military were illegal for the LGBTQ community; Dan realized the term 'lesbian' didn't fit how she felt inside.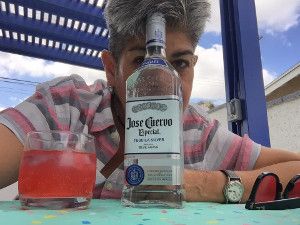 Depression and hopelessness were constant companions. Dan sought help from the Long Beach LGBTQ Center. Utilizing the counseling services there, Dan gradually came out of her shell. At that same center Dan took her first HIV test, joined a chat group, and attended social activities. Dan survived a critical time in her life in part because of the support and services offered by the Long Beach LGBTQ Center. 
She also became more confident. While many people dislike the word 'queer', Dan embraces it. "It's an umbrella term including so many of us. And none of the pronouns fit me," she said during our interview. "I feel like I'm more than one person if someone uses 'They'. When I hear 'She' it makes me cringe. When people use 'He' I just chuckle". We agreed on 'She' for the writing of this piece but ultimately Dan is most comfortable being called 'Just Dan'. 
Dan wears male clothing and keeps her thick silver hair short. I asked if she would consider transitioning and she replied, "No way. It's fine for some people but not for me. I don't believe in elective surgery, so I'm stuck with what I've got". Stuck with it? Meaning she's still not entirely comfortable in her own body? "Is anyone? This is what I have so I'll work with it, but no…..I'm not entirely comfortable." 
Which is why Dan continues to patronize the Long Beach LGBTQ Center. "I prefer to be around like-minded people. They are more accepting. When I'm in public I get stared at a lot. People are trying to figure out what I am. I often feel like I'm being judged or made fun of when I'm around straight people." 
Dan especially enjoys the yearly Qfilm Festival but frequently attends other Center events as well. She is also a long-time monthly donor. Dan hopes to have a role in bringing even more diversity to the Center. She would like to work with Executive Director Porter Gilberg to create a butch/queer support group. More programming for women only is also on Dan's wish list. 
When I asked Dan for some final words of wisdom she said, "I want to tell other LGBTQ people that it DOES get better. To seek the support of their local LGBTQ center because they are so necessary for those who are struggling with thoughts of suicide, isolation, anxiety, and depression. There is a place for you here." 
***The photo used for this story is titled "birthday selfie with tequila". It was taken on Dan's birthday – June 12th, 2016 – the same day as the Orlando Pulse Nightclub shootings.