I've lived a large part of my life looking for community, for a sense of belonging and wanting to be a part of something bigger than myself.  I was an Asian orphan, adopted during the years following the Korean Conflict, to an American farming family in rural Nebraska. I grew up feeling different. I was a farm kid who went to town school. I was a Protestant who went to a Catholic high school. I went to a fundamentalist Bible College but was not raised in a fundamentalist church. 
Oh, did I mention that I was gay?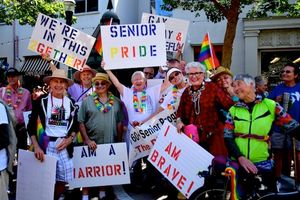 I tried the "cure" that was offered at the time. I was married to a lovely lady for almost 30 years, had both biological and adopted special needs kids, and went to church every week. Yet I never felt I fit in anywhere. 
When my wife passed away I came out. The groups I had been part of quickly disappeared or disassociated themselves from me, including much of my family. And then I found Outlinc, a open, affirming and welcoming group to all people who offered, among other things, a volleyball group once a week. I went - nervous as all get out - and soon discovered a joy that I had never felt before. I felt completely accepted as I was, no explanations needed. I had found a place that I belonged. That was almost 6 years ago. I still go and attempt to play volleyball every week. I feel like a mother hen to the young folks I know. They have offered me love and acceptance in a way that I will never understand. But I will be forever grateful and thankful for their friendship! 
I'm sharing my story with the hope that it helps others.