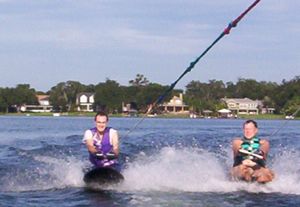 I called Gary on a Friday morning, and he chatted with me from his home in Lake Conway, Florida; which is located on the same street as the former Pulse Nightclub.  He tells me the site is being made into a memorial museum, referencing the mass shooting that occurred on June 12th, 2016.  50 people died and 58 were injured with all but one (the shooter) identifying as LGBTQ or an ally.  
Gary said he was bullied a lot in school, but instead of deterring him, it motivated him to focus on his studies and he graduated as valedictorian of his high school class.  He spent many years in the support of our military.  He was granted disability retirement after being diagnosed with Post Traumatic Stress Disorder (PTSD).  Gary relies heavily on his service dogs and husband Phil to assist him with daily activities, but he remains upbeat with a cheerful attitude and a playful sense of humor.  Now self-described as "retired", Gary and Phil have a long history of being active within the LGBTQ community. 
They met through a newspaper ad in 1990, each of them writing to the other.  Gary proposed to Phil on Valentine's Day of 1991.  They were married later that year by Reverend Jimmy Brock at the Joy Metropolitan Community Church of Orlando.  Same-sex marriage was not legal anywhere in the United States at that time.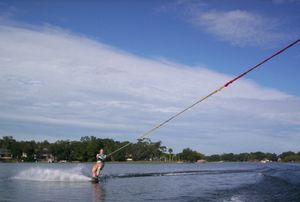 On July 6th, 2012 - the first day a countywide domestic partner registry became available in Orange County, FL – Gary and Phil unknowingly became the first couple to register.  Gary said it was a pleasant surprise to have that honor.  Having been in a committed relationship for more than two decades by this point, the registry was a "first step toward actual marriage" in Gary's opinion.  They finally shared some of the same rights their married heterosexual friends had always enjoyed including hospital visitation, emergency notifications, guardian decisions, healthcare decisions, and funeral/burial decisions.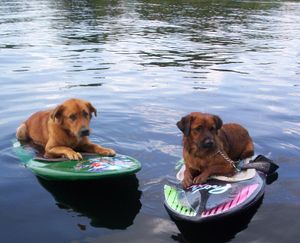 Around the same time Gary and Phil began their relationship, they decided to combine their passion for water skiing and their desire to give back to their community.  Gay and Lesbians of Orlando Waterskiers (GLOWS) was born.  Longtime fans of wakeboarding, waterskiing , trick skiing, double Hydrosliding spray wars, and even barefoot skiing; it was a natural fit for the couple.  For over 25 years, they took their boat out onto the water at least once a month, forming a popular niche within the LGBTQ community of Orlando.  The boat trips were open to anyone on any day.  For the price of gas people enjoyed wakeboarding and waterskiing with others from the LGBTQ community.  While they don't go out as often anymore, Gary said they will accommodate people who request a GLOWS trip whenever possible. 
Despite medical challenges, Gary remains a vital part of his community.  Since last century he has worked within the Orange County, FL school system as a volunteer teacher.  He and Phil attend events at The Center in Orlando.  They enjoy travelling, spending time with their service dogs, and catching up with friends.  Gary lives his life to the fullest and says he is grateful for every single day.