Story credit to Wanda Martinez-Johncox and I'm From Driftwood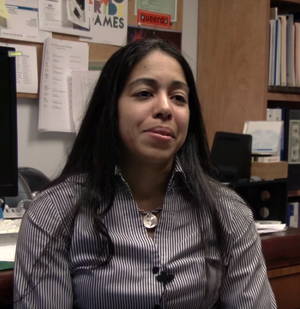 At the age of 13, Wanda was watching the Miss Universe pageant on her family's black and white television in Puerto Rico.  When Miss Puerto Rico won the crown, Wanda wrote a love letter to her inviting her to dinner to celebrate.  It was her first experience with same-sex attraction.  Wanda's mother found the letter under her pillow and told her never to mention those feelings about women to anyone again.  Wanda's grandmother took her to church the next day to confession, and told her, "people like that get HIV".
After high school, Wanda's family sent her from Puerto Rico to the United States to receive treatment for her attraction to women.  Wanda spent 7 days in a mental hospital and was released after the doctor there told her they were not able to help with her same-sex attraction.  Upon being released Wanda attempted suicide twice.  She felt her family was ashamed of her and she did not know how to "fix" herself.
A friend at work told Wanda to attend a workshop hosted by the Out Alliance at the LGBT center in Rochester, New York.  She immediately felt a connection to the other attendees.  Wanda says it was the first time she felt she was not alone.
Wanda blossomed after finding a supportive community.  She is now married with two children.  She would like other LGBTQ people to know that they are not alone, and your local LGBTQ community center can provide support.  To hear more of Wanda's story, click here.