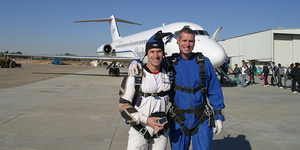 In 2010, Donald (Don) Zarda was fired from his job at a skydiving company after he put a female student at ease about their physical contact for a tandem jump by informing her that he was gay.  While the jump went smoothly, the student's boyfriend called later to complain. Don was originally suspended for a week and in a final discussion with his boss – which Don recorded –  he was fired for misconduct for sharing "inappropriate information regarding his sexuality".
Donald filed a lawsuit alleging employment discrimination under the New York State Human Rights Law and Title VII of the Civil Rights Act of 1964, which prohibits discrimination based on sex.  The court ruled that the Civil Rights Act did not protect Donald from losing his job for being gay. 
Undeterred, Donald continued to pursue justice through the legal system. Although he passed away in 2014, William and Donald's sister represented him during arguments at the U.S. Court of Appeals for the 2nd Circuit in September of 2014. The case went all the way to the U.S. Supreme Court (SCOTUS), and on October 8th, 2019, they heard oral arguments for Donald's case along with two other cases centered around LGBTQ+ employment discrimination.  The Court will soon decide if Title VII's ban on workplace sex discrimination protects LGBTQ+ people from discrimination on the basis of sexual orientation or gender identity.  During their years-long battle, William and Donald became public advocates for LGBTQ+ equality.
I had the opportunity to ask William how he was feeling as he awaits the Supreme Court's verdict.
I'm guessing you and Don did not enter into this process with the intention of becoming heroes, but in many ways you are.  What is your advice to others who are experiencing this type of discrimination? 
I actually experienced this type of discrimination myself in August of 2000 just a month before Don and I met. The company was named Advocare and I worked in the corporate office in Addison/Dallas. I was given no reason for my termination. In fact, I was "Employee of the Month" at the time.  I later found out from my supervisor that the CEO of the company terminated my employment because of my sexual orientation. I contacted a couple of attorneys and they told me that I had no federal protection and no protection under the employment laws of Texas.
I wish I had been more persistent at that time like Don was 10 years later when it happened to him. It's hard to speak up. It caused Don a lot of hardship and suffering not only because he was fired inappropriately and lost income but because by putting himself out there for this cause it likely limited his ability to gain good employment moving forward. I remember Don asking me "What is the first thing you do when you consider an applicant for employment?"  My answer...."a google search".  And when you googled Don's name there were so many news articles that came up. That's not what an employer is looking for when they are determining the hire-ability of a new employee. This termination of Don's employment also came at the worst time in his career.   It was just before he finished his bachelors degree in Aviation Management.  He was never able to use it.  
When his family and I decided to move forward with his case we received harassing phone calls and emails. We are still receiving them. Someone with thin skin could be discouraged easily. I implore anyone who has been discriminated against to stay strong, stay focused, ignore the foolish idiots and the comments they will make. Stand up for yourself. There is a very large world-wide family of LGBTQ+ support for you.  It's sad that in the year 2020 we are still fighting for our rights but it's important for us - and the generations to come - not to give up and hide from this terrible discrimination.  
If the Supreme Court rules that LGBTQ+ people like Donald are not protected by existing federal workplace protections, anti-LGBTQ+ opponents can use the same legal reasoning to attempt to overturn critical federal protections in housing, healthcare, credit, education and more.  How are you feeling as we approach decision day?  Is there anything LGBTQ+ organizations and the community can do to support to your family during this time?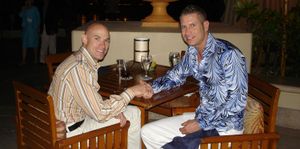 I feel very supported by the LGBTQ+ community, the ACLU, Lambda Legal, the HRC, Freedom for All Americans, Equality Texas, and all of the other organizations that have offered support through letters, PR, and at times financial and travel support to help us fight this battle. I could not have asked for more support from my friends, immediate family, and my chosen family.  I am nervous because we have a somewhat conservative Supreme Court, but I feel that in time no matter what happens with these cases, we will prevail.  I'm still hopeful for a decision to be made in our favor.  I want everyone to understand that even if we win these cases, we are not finished.
We still need to elect representatives to the US House and Senate that will help us get the Equality Act passed. This will ensure protections in the work place along with protections in housing, education, and more.  My fear is if SCOTUS rules against us in these cases, states without protection could begin to allow more discrimination against LGBTQ+ employees. Before our cases came to light, many people assumed you could not fire someone for sexual orientation. If we lose, there will be bigots who will be empowered to terminate LGBTQ+ employees based solely on sexual orientation. We might end up in a worse situation than we were before.  It's so important in this 2020 election that everyone gets out and votes to get the right people in place to govern us so that we are treated fairly moving forward.  
Currently there are a patchwork of federal protections across the country when it comes to LGBTQ+ rights. A gay person could drive from California to Maine and their rights would change up to 30 times depending on which state they're in. The Equality Act could change that and mandate comprehensive federal protections for the LGBTQ+ community.  One of the best ways to see legislation like the Equality Act become law is by voting. We're helping LGBTQ+ people get registered then asking them to vote for lawmakers who support equality in 2020. Can you offer some words of encouragement to the community, talking about why it's important for them to head to the polls this November? 
I may have answered this question inadvertently in my last answer before reading this question.  I wanted to make sure to make a point of how important a vote is. We must not be idle and allow the same poor representation be re-elected and slow our progress, or even worse, experience four more years of reversing any positive changes we fought so hard to make. We cannot forget that if one more justice on the US Supreme Court is appointed and confirmed by the current administration that we will likely see a stop in progress not only for LGBTQ+ people, but for many other groups.  This should be important to all Americans.  We absolutely must focus over the next 5 months: volunteering, calling, knocking on doors to make sure we get the LGBTQ+ community mobilized and ready to elect legislators who support equality.
As told by William Moore to Tanya Tassi