Janna Masia Barkin is the proud mother of a transgender son.  She is also a published author, a professional speaker, a coach and counselor for transgender families and individuals, and a passionate advocate for transgender youth rights.  Janna's book, "He's Always Been My Son" is an uplifting and supportive memoir of her journey raising a transgender son from birth through to adulthood.  After checking out her website and learning about her work at one of ActionLink's partner community centers  - the Spahr Center in Corte Madera, California - I took a few minutes to ask Janna about her advocacy journey.  Here's what she had to say.
Your website introduces you as a proud mother of a transgender son, author, coach, and passionate advocate for transgender youth rights. Prior to your son coming out as transgender, were you involved with advocating for LGBTQ rights?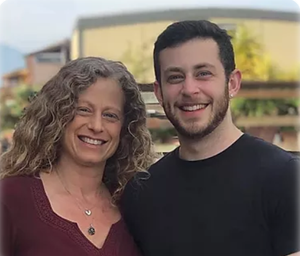 I am a very proud mother to three children, my youngest is trans. My understanding and acceptance developed over a long period of time and followed closely with my child's understanding and acceptance of himself. It was only after my son came out that I became active in advocating for transgender youth and their families. I often say that my son took me the places I needed to go. Had our story been different I am sure my life would have taken a different path.
When I first started looking for information and support to help me understand my child, I was lucky to find some great resources. But at the time there were only a scant few voices and websites that were able to provide information and perspective about parenting a transgender child. (Actually, I am not sure the word "blog" even existed when I began exploring this subject almost 15 years ago.) Now there are so many great resources available on the Internet and elsewhere. Sadly, there is also a lot of misinformation, fear, hate, and ignorance. 
I am do my work to share and spread information, love, acceptance, and empathy. Every child deserves to be loved and supported unconditionally. Being transgender is just one more beautiful normal variation of being human.
Once you decided to become an advocate, you went all in. What has been the most challenging part of doing this type of advocacy work? 
The most challenging part of doing this type of work is hearing from those who do not have the support of their loved ones. Too many times I have been approached at conferences, or book talks, or speaking engagements, by someone already in tears who tells me about the family rejection they have suffered and how it has hurt them. Family rejection can have very tragic consequences. Though very difficult, it is the reason why I do this work. 
As my son wrote in my book He's Always Been My Son- a mother's story about raising her transgender son: When transgender individuals finally feel like they are able to express their authentic selves and entrust their parents with this information, it's hard for me to fathom that the parents would be mad, or disappointed, or have feelings of resentment towards their child. The sad truth, however, is that this happens too often.
In an excerpt from your writings, you said that around the age of three, you noticed a shift in Amaya's clothing preferences, and that he no longer wanted to wear typical girl clothing. Was this the first sign for you that Amaya might be struggling with his identity? 
I am not sure it's accurate to say that Amaya was "struggling" with his identity at that time. I think he had a natural inner knowing that was different than what his body told us when he was born. He just did what felt right to him and we went along with him. But his "natural" lined up with what our society sees as male, despite the fact that he was assigned female at birth. His struggle did not come up til later. When he was younger, he did struggle to feel comfortable in his clothes. We thought he was just being sensitive. And at that time he did prefer clothing that was available in the "boys" section. As long as we allowed him to wear what he wanted to wear there was no struggle. The real struggle came later, maybe around 8, when he became more aware of the messages he was receiving from the outside world and he was not able to be seen and accepted for how he saw himself.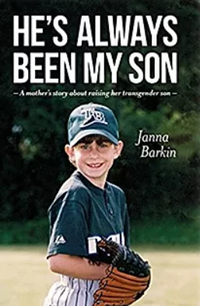 When Amaya was 15, you stated that your family found a trained, supportive therapist for him. Can you talk about the importance of having a support system for children who are grappling with self-identity and transition issues? 
I have come to understand that it is not simply one's gender identity, be it transgender, non-binary, or another identity, that determines if they will need a therapist. Rather, it is the challenges they face in today's world and the negative messages they receive about being transgender or non-binary that causes people to need/seek outside support. We know that without family support trans youth are at  very high risk for suicide, depression, anxiety, self-harm. We also know that having the support of just one important person in their life greatly reduces their risk to be closer to their cisgender peers. 
If the child does show signs of struggling then it is crucial that they have the outside support they need to develop an understanding of what they are going through and to develop their resilience to be able to cope in a world that is not always safe or supportive toward trans people. A skilled therapist and a peer to peer support group can both be invaluable. 
I believe it is as important, if not more important, for the parents/caregivers to seek trained support so that they can develop understanding and empathy with regards to gender diversity. I also recommend that parents/family members seek a peer support group. I can't emphasize this enough. It can be crucial for family to be able to speak to others who are experiencing something similar. Support can also be found at conferences focused on gender such as Gender Spectrum and Gender Diversity. When parents find the support they need they empower themselves to be of best support to their child.
If the child does show signs of struggling then it is crucial that they have the support they need to develop an understanding of what they are going through and to develop their resilience to be able to cope in a world that is not always safe or supportive toward trans people. Again, a peer to peer support group can be invaluable. 
When I first started learning about what it means to be transgender it was reported that only 5-10% of people could say they knew a someone who is transgender. Now that number is reported at 20%. This is good news as it has also been shown that acceptance increases with familiarity. 
We must start educating people about gender identity early on. With more understanding, empathy, and acceptance the need for additional support will diminish.
You do amazing work at the Spahr Center.  When did you find them and what made you want to become a parent support group advisor there? 
The Spahr Center came into being as a result of a merger that included Marin Aids Project – serving those living with HIV/AIDS, and Spectrum – serving the LGBTQ community. I had heard of Spectrum as early as 2012, Amaya attended a support group there for LGBTQ teens that was run by his therapist. I believe the two previously mentioned orgs merged in 2015. 
In 2015, as our son was settling into his life as his authentic self I felt drawn to help others. There was not any type of support group being offered for parents in Marin County at that time. I reached out to Spectrum which had become Sphar, to see if they had space I could use to start a parent support group. I enlisted Cammie Duval to facilitate with me. She was and still sees Spahr clients as a therapist, and was facilitating the youth support group at that time. 
The group is still going strong 4 years later. With an average attendance of 10-15 people each monthly meeting we added another meeting to make it two meetings per month for parents/caregivers of transgender, gender non-conforming, non-binary, gender questioning youth. 
When Dana Van Gorder came on as Executive Director he offered me a paid position to continue on as Parent Group Advisor and to help grow our parents and families support offerings.
To learn more about Janna's work and purchase her book, "He's Always Been My Son", visit her website: www.hesalwaysbeenmyson.com.