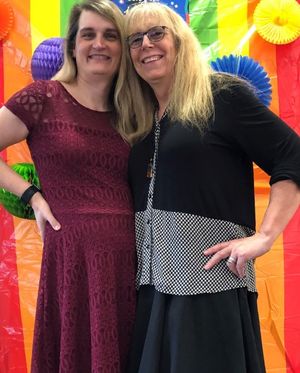 In 2013, my wife was working as an attorney in a solo practice. I had recently come out as transgender and as a result, lost my job. We needed health insurance but neither of us could get approved. We had no health problems, no history of smoking or using drugs, no pre-existing conditions......except for being transgender. 
Applications for coverage were met by letter after letter of rejection. They were very clear.  We were denied due to identifying as transgender. We went without coverage and became cash customers. We didn't go to the doctor if we got sick and used the local urgent care as our primary care physician. 
The addition and enforcement of Section 1557 provided not only peace of mind, but a healthier outcome for both of us. I now have insurance through my employer - the Resource Center in Dallas. My wife Katie has an Affordable Care Act policy that covers her needs. 
The loss of Section 1557 puts all of that in jeopardy again, and we are extremely concerned. We have experienced first hand what insurance companies can do when they are allowed to discriminate. 
The new interpretation of the nondiscrimination provision of Section 1557 of the Affordable Care Act will directly affect the very communities the law is meant to protect including women, older adults, people with disabilities, and the LGBTQ community.  These populations already face high levels of discrimination by health care providers.  We oppose the proposal to rollback protections on 1557.
Click here to send your comment opposing health care discrimination.