I have coworkers, close friends, relatives, patients, and a child that identifies with the LGBTQ community. I am a mother of a transgender person and as a pediatric pharmacist I take care of this population as well. This is a vulnerable group of people who need to have laws in place to keep them safe. -Karen Robison, Boise, ID
---
This is dangerous. I am a Family Nurse Practitioner and also adjunct faculty at a university. I am currently trying to teach my nursing students about healthcare disparities. We all have a role to play in recognizing our own biases and working to improve disparities in healthcare. These disparities are known to exist on the basis of race, gender, sexual orientation, disability, etc. based on quality scientific studies. 
Changing this law will result in increased risks, poorer patient outcomes, and overall decreases in quality of and access to care. All of these factors will continue to increase healthcare costs as well, since economics, unfortunately, speaks louder than human beings to some policy-makers. This is a dangerous proposal. I encourage you to advocate AGAINST the proposed changes to section 1557 of the ACA.   -Sarah H Sentz, Bozeman MT 
---
Article 25 of the United Nations' 1948 Universal Declaration of Human Rights states that "Everyone has the right to a standard of living adequate for the health and well-being of himself and of his family, including food, clothing, housing and medical care and necessary social services."   By implementing these changes access to health care may limit access for many people including women, older adults, people with disabilities, and the LGBTQ community. 
As a physician, I firmly believe health care is a right for all and discrimination of any sort is antithetical to the American principles of life (which cannot be preserved without access to health care), liberty, and the pursuit of justice.  -Susan Igdaloff, M.D., Newhall CA 
---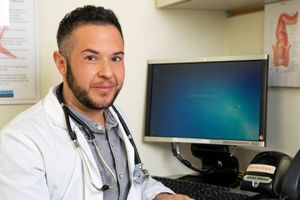 I am in strong opposition to the proposed changes to section 1557. Any law that removes protections or allows discrimination against any group, especially in the health care arena is not only wrong from a constitutional perspective but violates the Hippocratic oath that all physicians have sworn to uphold. 
When will it stop? Is the next step allowing health care providers or insurance companies to discriminate how, or whom, they treat because they don't agree with a patient's religion, or the color of their skin, what language they speak, or what political party they belong to? These changes cannot, they must not be implemented.  -Clinton R White, MD, Colorado Springs CO 
---
The LGBT community is often misunderstood, mislabeled and mistreated based on another person's belief or lack of knowledge. As a nurse, I am aware of the lack of education provided to healthcare professionals related to LGBT community, especially transgender individuals. I have witnessed first hand medical treatment that was lacking in professionalism and respect. So, I have actively searched out educational seminars to enable me to better serve the LGBT community.  I will not allow this change to affect my patients. I will provide treatment to everyone placed in my care with compassion, respect and a non-judgmental attitude. 
I am also the parent of a transgender individual. I am aware that my son's life could be placed in jeopardy because of these proposed changes. I fear every day for my son's safety. Individuals, who are LGBT already postpone obtaining medical care out of fear of judgement.  These changes to Section 1557 of the ACA would only make their situation worse.  -Kelly Tome, Brunswick OH 
---
I work in a healthcare space with some of the vulnerable communities whom these changes threaten to negatively affect. The LGBTQ+ community already faces stigma, discrimination, and negative attention on a daily basis across the spectrum of their social experience, healthcare included. Every one of these experiences is a new barrier to self-care that must be overcome. We fight hard to help these communities feel welcomed and valued and show them that affirming care is available, but when their own government takes steps to undermine that value, it becomes that much harder to reach those communities. I vehemently oppose the proposal to rollback protections on 1557.  -Evan Anderson, New Orleans LA 
---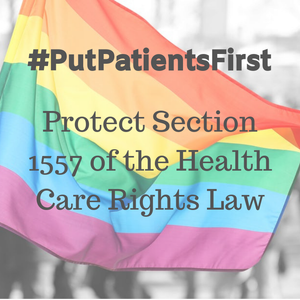 As physician, I can attest to the fear and anxiety that LGBTQ patients, trans patients in particular, have when seeking healthcare.  They are still targets of prejudice and stereotypes from some health care providers. LGBTQ patients definitely need protection on a legal basis, and Section 1557 currently provides that.  Changing the regulations will mean the LGBTQ community is even more at risk of discrimination when seeking medical care.  -Dr. Shane Du, Providence RI 
---
I am an optometrist.  Just like everyone else in the health care profession, I took an oath to provide treatment to everyone regardless of social class, race, or sexual orientation. I cannot imagine denying anyone healthcare. Everyone is entitled to quality health care.  It is discriminatory to deny that care due to someone's sexual orientation. It is also illegal, and I cannot believe that in 2019 that we are still having this discussion.  -Binae Karpo, Allentown PA
---
Equal rights does not mean no rights for some. The nondiscrimination law of the ACA prohibits discrimination on the basis of race, color, national origin, sex, age, or disability. In order to protect our most vulnerable populations, especially during troubling times such as when seeking health care, we must protect Section 1557 of the ACA. As a healthcare professional, my objective is to help people in need. It is never okay to discriminate - for any reason - and Section 1557 of the ACA provides the standard of this practice.  -Amy R. Kweller, MS, RD, Austin TX
---
As a nurse my job is to treat everyone as an equal. Healthcare providers are not to discriminate against anyone regardless of sexual orientation, race, age, etc.  If the president was to come into my ER, I'm sure he would want me to give him proper care instead refusing to treat him because of my feelings towards his policies. -Karen Jackson, RN, Tarzana CA