As told by Will's mother Amy Hawpe
The Hawpe Family has received support from the  Shenandoah LGBTQ Center, a member of CenterLink's community of LGBT centers.
Will came into this world as Lillian, but as early as age three he began consistently telling us he was a boy. We were fine with him playing with "boy" toys and being more rough and rugged than his two sisters. We figured it was a phase or that he would turn out to be a tomboy. That's not what ended up happening. The older Will got, the more he insisted he was male. It became obvious that he was battling with discomfort and anger because of the body he was in. Will began to refuse to wear any type of girl's clothing and we'd catch him trying to cut off his hair. 
Eventually we sought help from a counselor. Our family had never heard of the term transgender before, but counseling helped us to understand what it meant and how to best support our son. We took things slowly, still hoping it was a phase. After a few years of counseling and seeing a psychiatrist, we knew we had to allow Will to be who he was born to be.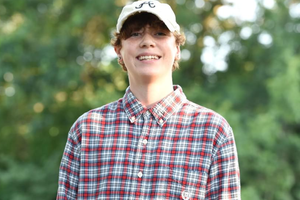 So, the summer before 3rd grade we talked to the school and re-introduced them to our child as our son, Will (now using he/him pronouns). Most people were supportive and did their best to help us navigate this new situation. I was told Will was the youngest transgender student to ever transition within this school system.  It was a learning curve for all of us. 
At first, the principal and superintendent decided Will could use the boy's bathroom, but that quickly stopped when the school's attorney advised them that Will must either use the bathroom of his assigned at birth gender or a private bathroom. Will had always felt uncomfortable using the girl's room, so his only choice was to use the one private bathroom located in the school's office. 
At the time, the school was set up in pods.  This meant Will had to leave the building he was in and go all the way to the office every time he needed to use the restroom. Eventually he trained his body to be on a schedule, and only used the bathroom during his lunch break, when he was in the cafeteria also located in that building. We have since learned that it is not an uncommon practice for transgender students to skip eating and drinking when they feel they do not have a safe, accessible restroom at their school. 
As most transgender children do, Will has been forced to deal with bullying from peers and parents. We even had a parent call the school to report Will was "recruiting" kids to be trans. The truth was, they had told their daughter she could not play football because football is for boys. She has asked Will how to be a boy and he told her he did not know because he "just is a boy" and that all he had to do was change his name.  This clearly shows some of the ignorance surrounding the topic of transgender youth and youth who are transitioning. No one can be turned transgender or gay. 
Will has always loved sports.  In 6th grade he decided to try out for the boys' basketball team but was informed he could not try out for that team. Instead, they convinced him to come to a practice with the girls' basketball team. It was devastating for him to watch the boys practicing on the other side of the gym.  Will did not go back for a second practice, and even though he loves playing sports, he has not tried out for anything since. 
Then there was the substitute teacher who yelled at Will for being in the girl's bathroom, not realizing he was transgender. All he was trying to do was what every other kid does without any second thought - go into the bathroom, take care of business, wash their hands, and leave.  He was so upset and embarrassed by this incident. No child should ever be made to feel ashamed of who they are. But Will has had his fair share of shame and hurt because of encounters like this. 
This brings up the first argument of many non-supporters -- that allowing transgender kids to utilize the bathrooms that match their gender identity will lead to an increase in sexual assaults. This is simply unproven. In states that have already passed similar policies, there has been no increase in incidents. Transgender people are not sexual predators or deviants. Additionally, gender identity does not have anything to do with sexual orientation. 
I think there is a simple solution for this concern. The school could require students who identify as transgender to have a letter from a counselor, psychiatrist, pediatrician, or other trusted source stating that the student does in fact need to use the bathroom that coordinates with their gender identity. This would solve the issue of a boy "becoming trans" for a day just to gain access to the girls' facilities or vice versa and potentially give parents the peace of mind that the student is indeed transgender and not a sexual predator. 
"This goes against God's plan." My family has heard all sorts of hateful things being spewed at transgender people in the name of God. As a person of faith, I can tell you with 100% certainty that Will was born this way AND he was created by God. Research is ongoing as to why kids identify as transgender, but the why is not that important to me. I know God created Will for a purpose and chose me to be his mom because He knew He could trust me to love him, accept him, protect him and fight for him. I will do everything possible to help Will fulfill his purpose in life. And while others utilize religion as a weapon to hurt and shame someone, I refuse to operate that way because I believe God only requires us to love. If we love, we do not judge or shame others. We attempt to understand others' struggles and journeys. We do not spread hate. My son has been raised to know God loves him and he is to love ALL others no matter their race, religion, gender, sexual orientation, etc. 
All that being said, ultimately in a public school system, religion should not play a role in decisions like which restroom a transgender child is allowed to use or which sports team they play on. There are students of many different religious beliefs and cultures in our public schools. They all deserve to be treated equally and shown respect, love, and support.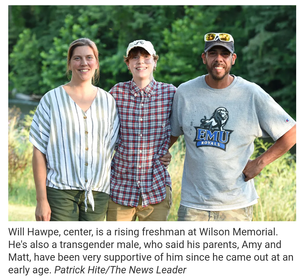 It is well studied and documented that transgender kids who have a good support system at home are far less likely to commit suicide or self-harm. Imagine how much better the statistics would be if those same transgender kids felt loved and supported at school too. Proper measures must be taken to protect and nurture ALL students. 
2021 has been the worst year yet for anti-LGBTQ legislation. With seventeen bills now signed into law, states have enacted more anti-transgender laws this year than in the last three years combined; including seven anti-trans sports bans, four religious refusal bills, two anti-trans education bills, one anti-trans medical care bill, and one anti-trans birth certificate bill. 
And 250 more anti-LGBTQ bills have been introduced in state legislatures in 2021; some still working their way through the legal system; including bills that would prohibit transgender youth from being able to access best-practice, age-appropriate, gender-affirming medical care, bills that would prohibit transgender youth from participating in sports consistent with their gender identity, bills that would allow people to assert a religious belief as justification for failing to abide by the law or provide services to people of whom they disapprove, and bills that would prohibit transgender people from having access to restrooms consistent with their gender identity. 
This attack on transgender youth cannot be ignored.  We need people who are willing to be as courageous as Will and other transgender kids to stand up for them and support policies and laws that provide protections and equality for ALL Americans. But even more importantly, we need people to speak out against the hateful things being said to and about these children and the transgender community.