Story written by Castelle, ActionLink's Policy and Advocacy Organizer
Waking up on November 20th to the tragic news emerging from Colorado was an eye opening experience for me. I felt a mixture of anger, sadness, and fear as I combed through the chilling personal accounts of people who had considered Club Q to be a safe space for the queer community in Colorado Springs. Sadly, this is not the first time that one of our safe spaces has been shattered. I was sixteen when the horrific shooting at Pulse nightclub occurred. I remember the numbness that I felt around the event, the power that I did not have as a closeted teen trying to make it out of high school without losing my mind from all the stressors that teens have to overcome these days. As a twenty-two year old queer woman dating a transgender man, attending law school, and working as an LGBTQ activist, I knew that the numbness I felt at sixteen could not shield me from the realities of living in the United States today. 
According to the Gun Violence Archive as of 2pm on January 31st, since the beginning of this year, there have been fifty-four mass shootings across the country with 3,597 lost lives resulting. Under the "Explainer" tab on their website, one can find the statement that "Mass Shootings are, for the most part an American phenomenon." A simple google search for "mass shooting statistics" confirms that claim.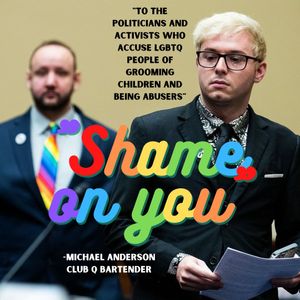 Mass shootings in the United States are also an LGBTQ issue. According to the Sandy Hook Promise, a group created after one of the many school shootings that rocked our country, LGBTQ people are two times more likely than their straight, cisgender peers to be a victim of gun violence in the United States. Furthermore, this is an issue for our children. Almost one out of every three transgender youth are threatened or attacked with a weapon in school. In my graduating class, there were at least three transgender kids, did one of them experience that kind of trauma when they were younger? It is a tragic and terrifying reality and it must change.
On December 14th, 2022, the survivors of Club Q and other anti gun violence activists met with the House Oversight and Reform committee. A bartender who survived that night in Club Q, Micheal Anderson, delivered a clear message to the committee. He declared, "To the politicians and activists who accuse LGBTQ people of grooming children and being abusers: shame on you, as leaders of our country, it is your obligation to represent all of us, not just the ones you happen to agree with. Hate speech turns into hate action, and actions based on hate almost took my life from me, at 25 years old."
This is the message that I want to communicate in this article. We cannot be complacent in the face of hate. Our community has been through too much, our children have been through too much. We must keep telling our stories, calling our lawmakers, and voting for the people that will accept all of their constituents.