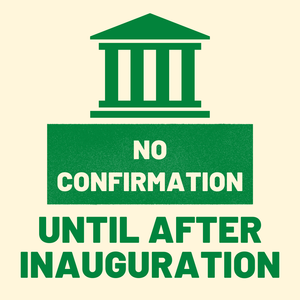 Call (888) 521-6658 and tell your senators that the Supreme Court is #OurCourt 
We are less than two weeks removed from Justice Ginsburg being laid to rest.  It is true that it is the responsibility of the Senate to consider her replacement on the Supreme Court.  But this is not how it should be done. 
There should not have been a nomination ceremony before Justice Ginsburg was even buried.  There should not be a hearing just 16 days later, three weeks before a presidential election, when millions of Americans have already voted. The legitimacy of the judicial branch rests on the principle that judges are independent and unbiased interpreters of the law. A fair process for nomination and selection is crucial. 
Call (888) 521-6658, enter your zip code, and you'll be patched through to your senators. Tell them that they must protect Justice Ginsburg's legacy and ensure a new U.S. Supreme Court justice is chosen after the people elect their next President. 
Amy Coney Barrett has demonstrated hostility toward LGBTQ+ rights in her words and rulings. 
She defended the Supreme Court's dissenters on the landmark marriage equality case of Obergefell v. Hodges, questioning the role of the court in deciding the case. 
She misgendered transgender people, referring to a transgender women as "physiological males," while casting doubt on transgender rights. 
Coney Barrett has also consistently demonstrated opposition to reproductive rights, calling Roe v. Wade an "erroneous decision." 
She also refused to rehear a racial segregation case, raising significant concerns about her approach to Civil Rights law. 
She has criticized the ruling which upheld the Affordable Care Act—which has helped millions attain quality, affordable healthcare—and expressed opinions that suggest she would strike down the law. 
We need our Court to recognize and protect the rights of all of us. Let's show our senators that the people are watching and that we know just how much is at stake. Call (888) 521-6658 and tell your senators to oppose the Barrett nomination.